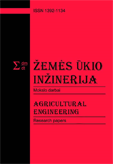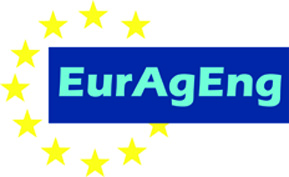 The journal of Agricultural Engineering is a research journal published by Aleksandras Stulginskis University (ASU). It is an international medium for the publication of multidisciplinary and interface between agriculture engineering and other fields of science works. Languages of publication are English.
The Aim of journal is to publish original research papers dealing with the mechanization of crops cultivation and animal husbandry; energy production including green energy engineering; development, maintenance and reliability of agricultural machinery; solving of agricultural engineering problems and other related subjects of investigation.
The main Topics of the articles are:
Technologies of crops cultivation
Transport and power machinery engineering
Technologies of animal husbandry
Technologies of alternatyve fuels and green energy
Agricultural machinery engineering
Production Storage technologies
Water management
Agricultural safety
Reviews. Agricultural Engineering is an open access peer-reviewed journal. Submission and review of papers is fully on line and double blind.
Publishing frequency. The Agricultural Engineering free access fully on line research journal. Paper issue be printed at end of yer.
This journal will also publish:
- Informative surveys on PhD papers, information about the scientific conferences to be organised and other related matters;
- Summaries of the scientific monographs.
Announcements
THE ADDRESS OF THIS JOURNAL WHERE AUTHORS CAN SUBMIT THEIR ARTICLES HAS BEEN CHANGED.

Dear authors, in the process of updating the system of the scientific journal Agricultural Engineering, the website address of the journal has been changed. The new address where authors can send their articles is: https://ejournals.vdu.lt/index.php/ae/submission/wizard

The address http://ageng.asu.lt/ae/author/submit/1 for receiving articles 

is no longer used

Posted: 2023-04-28
Volume 55 (2023)
Table of Contents
Original Articles
Agricultural Engineering
&nbspISSN 1392-1134 / eISSN 2345-0371
This journal is published under the terms of the Creative Commons Attribution-Noncommercial 3.0 Unported License.&nbspResponsible editor:&nbspDr A. Žunda.